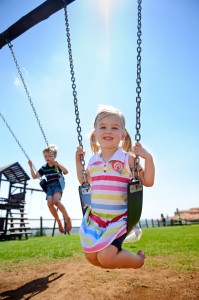 The combination of excited children and uninspected playground equipment makes for a hazardous situation for kids. In fact, government statistics indicate more than 200,000 preschool and elementary children will be injured severely enough this year on playgrounds to require emergency room care.
So, what can you do to protect your children at their favorite playground?
Download the Playground Safety Guide
Start by downloading the AccidentAttorneys.org Playground Safety Guide. This simple one page document will help you identify the five things you need to look for on any playground.
The Consumer Product Safety Commission says that 80 percent of all injuries to children occur on playgrounds at schools or parks. Fractures of the wrist, arm and elbow are the most common injuries on playgrounds.
Take a moment to download our playground safety guide. Share the information with your children and other parents you know. This easy to use guide could be the difference between you and your child's safety.
For more information on Playground safety, checkout these playground safety tips.