Understanding Your Claim and Evaluating Birth Injury Attorneys
The Centers for Disease Control and Prevention estimates that, every year, between six and eight babies out of every 1,000 born in the United States suffer from some form of birth injury. This results in about 28,000 infants born with birth injuries every year. One of the more common forms of birth injury, cerebral palsy, occurs at a rate of up to four out of every 1,000 live births.
A significant percentage of these injuries could have been prevented, but were caused by the negligence of medical professionals or other responsible parties.
When giving birth to your child, you need your doctor and nurses to be prepared for some of the uncertain situations that arise. Your baby is vulnerable, and if the doctors and nurses do not respond properly, he or she may suffer serious injury that can affect the rest of their lives. When this occurs, the doctor or nurses who made the errors should pay the cost of the injury that resulted.
To learn how to pursue compensation for your child's birth injury, please contact us to speak to local birth injury attorneys.
What Is a Birth Injury?
A birth injury occurs when a complication arises during delivery of the baby, typically but not always during a vaginal delivery, that results in an injury to the baby or the mother. In many cases, a birth injury is preventable, often just by a timely recognition of what is happening and responding appropriately.
Some of the complications that may result in birth injury include:
Labor does not progress

Abnormal (breech) presentation

Umbilical cord prolapse or compression

Uterine rupture
Some of these situations can be identified before birth is attempted, such as the size of the baby. Most, however, occur during the attempted birth and must be recognized and responded to quickly to prevent birth injury.
Minor Birth Injury
Sometimes delivery may result in a minor birth injury that is unlikely to cause lasting injury, such as:
Cerebral, subarachnoid, or subdural hemorrhage

Clavicle fracture

Caput succedaneum
These minor injuries might be attributable to the tools or techniques used by your doctor, but they do not usually merit a medical malpractice lawsuit.
Moderate Birth Injuries
More serious birth injuries may be caused by improper response to a difficult birth, a poor choice of extraction tools, or failure to recommend a cesarean section may in some cases increase your child's risk of:
Facial nerve injury

Intraventricular hemorrhage
These injuries may cause lasting damage to your child. For example, about 30% of children with Erb's palsy suffer long-lasting residual effects.
Serious Birth injuries
Sometimes, healthcare providers make critical errors in judgment or performance of medical procedures, resulting in an injury that will have a lifelong devastating effect on you or your child. This may include:
Serious infection to mother or child

Surgical error during cesarean section
These injuries may result in permanent disability or even death of the mother or child.
The Costs of Caring for a Child Suffering from Birth Defects
The CDC estimates that children born with cerebral palsy require annual medical care which, as of 2005, cost an average of $43,338 per year per child. This was contrasted with annual average costs of just $1,674 for children who did not suffer from birth defects.
If your child has suffered from a birth injury due to the negligence or malicious act of another person, you may be entitled to claim significant monetary compensation from any responsible parties. Such compensation can be broken down into two general types: economic and non-economic.
Determining if Your Child's Birth Injury was Due to Medical Negligence
When your child is diagnosed with a birth defect or birth injury, it is common to wonder if the medical professionals who helped you deliver your baby may have played some role in your child's condition. Determining whether or not the doctors and nurses that helped you deliver your child are at fault would best be done by a qualified professional, such as an experienced birth injury attorney.
Below we will take a look at some common birthing mistakes which may have resulted in your child's suffering from birth injuries:
Lack of oxygen due to negligence or incorrect procedures
Incorrect use of medical instruments, such as forceps
Medical professionals incorrectly deciding not to conduct a caesarean
Medical professionals failing to recognize that the child is in medical trouble
Administration of the incorrect medication
Administration of incorrect medication dosages.
Time is of the Essence
If you suspect that your child was injured at birth due to the negligence of a medical professional, it is imperative that you immediately speak with an experienced birth injury attorney. You may be entitled to significant compensation which you will need to help pay for the expenses associated with getting your child the treatment he or she requires. When it comes to obtaining compensation for your child's injury, time is truly of the essence.
Experienced Birth Injury Attorneys
As mentioned above, in order to determine whether or not your child's birth defects arose as a result of medical malpractice, it is best to consult with an experienced birth injury lawyer. Your lawyer will be able to review your child's medical history and accurately determine whether or not your child's condition was likely the result of a medical error or negligence.
Experienced birth injury attorneys make use of:
The law, including personal injury and medical malpractice law
Knowledge of medicine in order to help establish culpability and the extent of injuries
Knowledge of governmental benefits
Knowledge of insurance benefits
Processes to determine your child's future medical and therapeutic needs
Calculations to determine the likely costs of your child's future treatment
Your birth injury lawyer should be experienced in presenting a comprehensive case on your child's behalf by combining all of the factors listed above.
Qualities of a Good Birth Injury Lawyer
The qualities you should look for in a good birth injury attorney include:
A demonstration of knowledge of the factors listed above
A demonstration of care and concern for your child's situation
A demonstration of experience handling cases involving birth injuries, including complicated cases
A demonstration that he or she is familiar with the legal strategies which may be employed by the opposing counsel
A demonstration that he or she has access to all needed medical experts and witnesses
Attention to detail
An organized and efficient legal practice
The Decision to Hire Legal Counsel
If your baby has been hurt by the negligence of a doctor, you may be able to get compensation with the help of a birth injury lawyer. When considering whether or not to pursue legal action against those responsible for your child's medical condition, you may hesitate when considering the potential costs. Perhaps you believe that hiring the best attorney to work on your child's case will cost too much, and combined with the costs associated with caring for your child, you may feel that you simply cannot afford it. But, there is a way for you to hire an experienced birth injury lawyer with no out of pocket expense.
Contingency Fee
Most birth defect and medical injury attorneys work on a contingency fee basis. This means that your attorney will only get paid after securing compensation for you and your child. You do not have to worry about paying an up front retainer fee, or any fees, as usually your attorney will cover the up-front expenses associated with your case. Under a contingency fee arrangement your lawyer will recoup the expenses incurred, as well as his or her fee, out of the compensation he or she secures for you.
An additional important note to consider is that when working on a contingency fee basis if your lawyer fails to secure compensation for you and your family, you will not owe him or her anything, even if he or she incurred significant expenses while fighting on your behalf.
Birth Injury Claim Compensation
Economic damages are those meant to help you recoup expenses incurred as a result of your child's injury. Some examples of economic damages include:
Medical bills
Costs associated with therapy
Costs associated with modifying the home to make it accessible for the injured individual
Lost wages/productivity
Non-economic damages are meant to help you cope with losses which may be more difficult for you to quantify. Such damages are best calculated by qualified legal counsel. Examples of non-economic damages include:
Pain and suffering
Mental anguish
Loss of consortium
Who is Responsible for a Birth Injury?
Birth injury claims can be filed against a variety of potentially responsible parties. The determination of which parties are likely responsible is conducted on a case-by-case basis, and is best done by a qualified birth injury attorney.
Some examples of those who may be held responsible for your child's birth injury include:
Doctors, nurses, and other medical professionals who may have been involved in treating your child before, during, and shortly after birth.
Healthcare corporations
Hospitals
Manufacturers of medical equipment
Who Can File a Birth Injury Claim?
If you are the parent or legal guardian of a child who has suffered a birth injury due to the negligence of another person, generally you can file a claim. Also, many states allow adults who were the victims of birth injury to file, up to a certain age limit.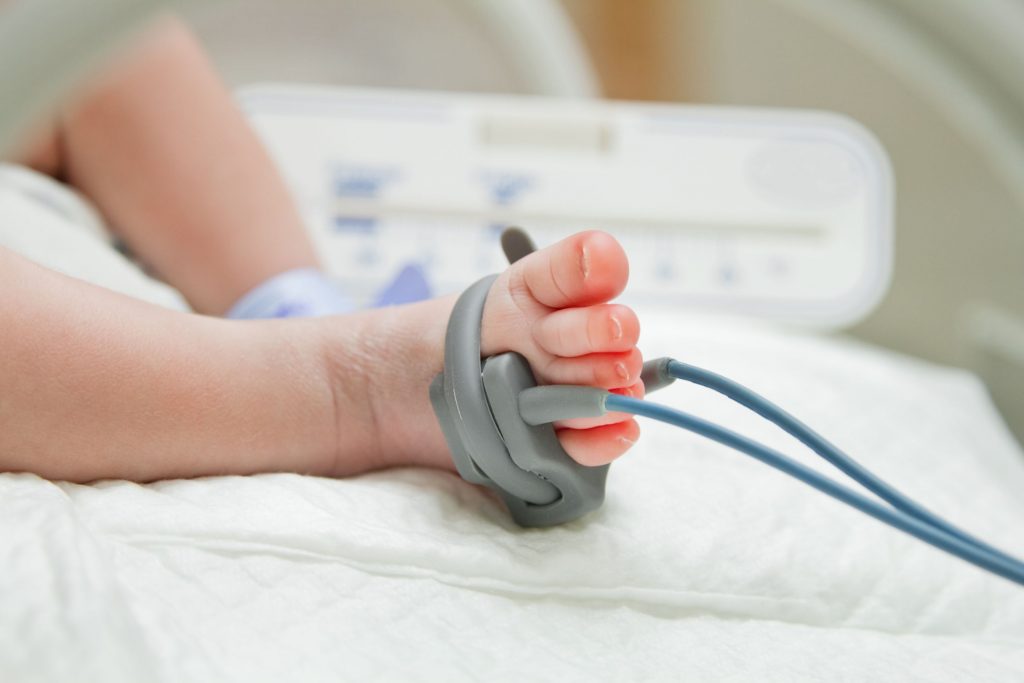 The Costs of Birth Defect Legal Representation
Filing and processing a birth injury lawsuit can be quite expensive. Expenditures your lawyer may pay in advance on your behalf include:
Court costs and filing fees
Medical record fees
Costs associated with obtaining evidence
Costs associated with paying expert witnesses
Office and clerical expenses
Working with an attorney on a contingency fee basis is the best way to secure experienced legal counsel while virtually eliminating any up-front out of pocket cost. It allows you to focus on your child because you won't have to worry about how to pay your legal fees.
The attorneys we work with at AccidentAttorneys.org have all been recognized by their peers and can give you a better chance of a successful outcome in your case.
To talk to an experienced birth injury attorney, please contact us today.

Related Articles: