Creating a Family Media and Technology Agreement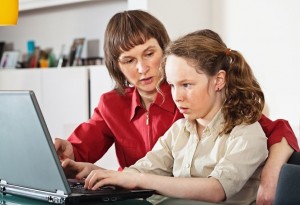 If you have read some of our earlier posts about online safety, you might be wonder how you can establish guidelines for your family. A family media and technology agreement may be the answer.
Your family media agreement can cover all of the devices in your home including computers, laptops, tablets, phones, gaming consoles, TV's and more. Each family has unique needs. There is no one right way, but there are a few things that should be standard for all families, such as keeping personal information private. An agreement or contract is typically more effective than simply setting down rules for technology use, because ideally each family member will help shape and customize the agreement, and parents are held accountable along with children.
Review and Revise When Needed
The agreement should be reviewed and revised at least once a year. Many families like to renew the agreement at the start of the school year, and tend to relax the rules during the summer. You may want to create a separate summer agreement to keep things from getting out of hand.
Other times to consider revising include anytime a new device or new type of device is introduced into the home, after school report cards come in, and anytime there are significant changes to your family's schedule or lifestyle.
Remember, the purpose of the agreement is to serve your family, not to structure your family around. So, if you find that your current version isn't working, try a different approach.
Setting Appropriate Limits
Rules and limits should be appropriate for your child's maturity and skill level. If your child knows how to use a device or website better than you do, ask them to teach you. It's very difficult to set reasonable limits on something you do not understand. On the other hand, if your child cannot yet comprehend policies and terms of service, you should require that they get your approval before clicking "I agree".
Consider how much involvement and supervision you feel you need to have. Maybe you are only comfortable with your child using devices in your presence or in the public spaces of the home. On the other hand, if your child is using a computer to do school work, it may be best for them to do so in a quiet and private space.
Parents often request or require their children to give them their usernames and passwords. It is the smart choice, but a tricky one. It needs to be a conversation, not a command. Kids will feel that it is a violation of their privacy. You would too in their shoes. The key is to have a real discussion about the fact that nothing they do online is private, and neither is texting. They should not be posting or texting anything they don't want to make public, because they are making it public, and even if you don't have the password, it could very well get back to you.