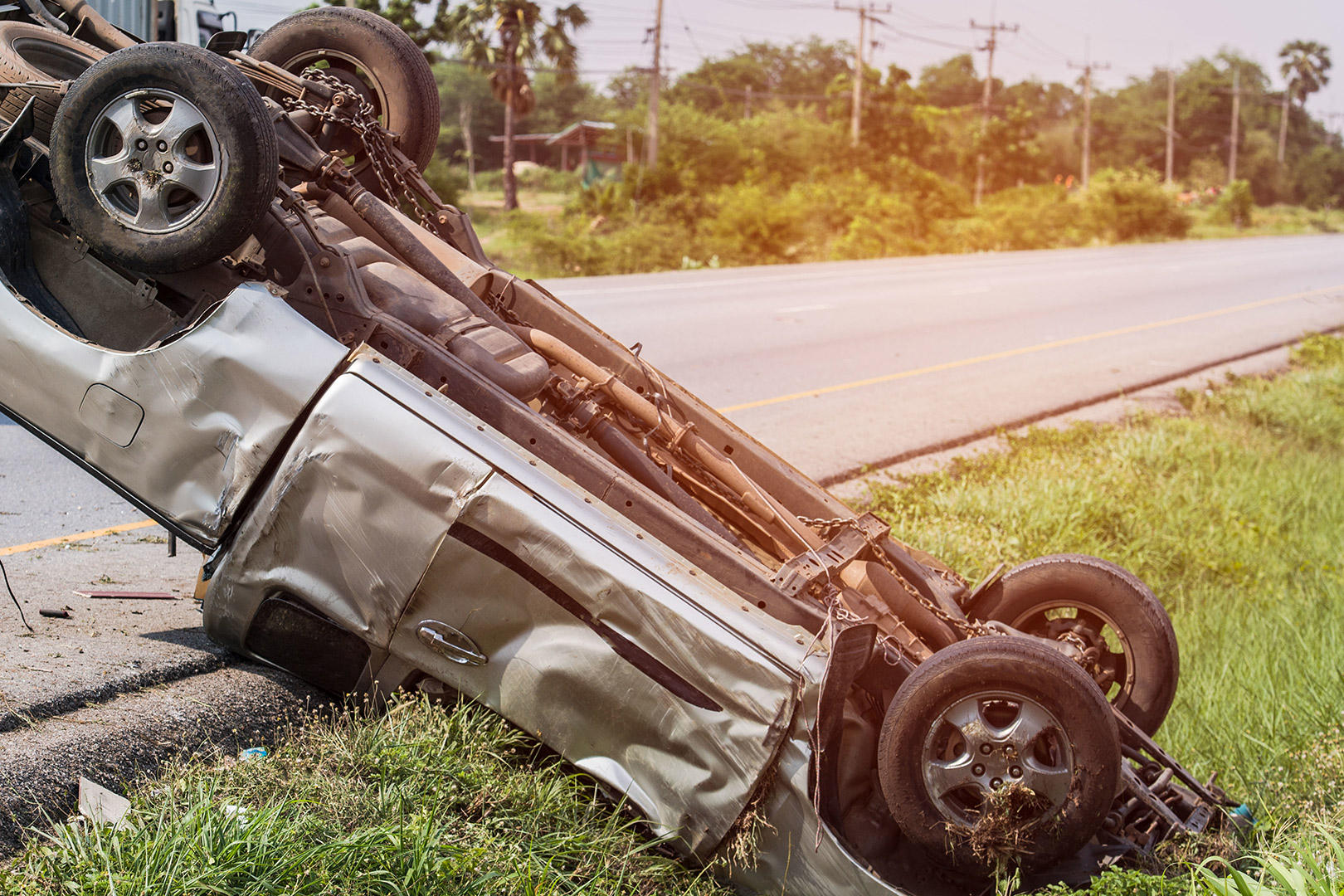 If you have been hurt or lost a loved one in a rollover accident, you may be able to receive compensation for your injuries or loss. Rollover accidents remain one of the most dangerous types of accidents. They can cause serious injury or even death. Unfortunately, many rollover accidents are single-vehicle accidents that may be due to a poor vehicle design. The defective design may also make vehicles more likely to roll over in multivehicle accidents.
To learn whether you might be able to get compensation with a rollover accident lawsuit, please contact AccidentAttorneys.org and talk to an experienced rollover accident attorney.
Dangers of Rollover Accidents
In a rollover accident, passengers experience many different forces that are harder for the safety equipment in the vehicle to counteract. This makes injury and even death more likely. About a third of all traffic fatalities and 20% of incapacitating injuries occur in a vehicle that has rolled over. You are more than ten times more likely to be killed or suffer incapacitating injury in a rollover accident than in other types of accidents.
People involved in rollover accidents are more likely to suffer brain injury or spinal injury. They are also more likely to be fully or partly ejected from the vehicle and suffer limb amputation.
Defective Design Contributes to Rollover Risk
Some vehicles may be considered defective by design for their tendency to roll over. Sport utility vehicles (SUVs) are about twice as likely to roll over as passenger cars because they have high profiles and a narrow wheel base. The vehicle may be "tripped" by small obstacles or by a tire failure. Although recent models show more stability than older models, they remain an elevated risk.
Vehicle design may also put you at greater risk once you get in a rollover accident. Poorly designed seatbelts may make you more likely to be ejected from the vehicle, especially if your car door comes open during the rollover. Poor roof strength may mean the vehicle will collapse when it rolls over, crushing you.
Compensation for Rollover Accidents
If you have been injured or lost a loved one in a rollover accident, you may be able to get compensation for your injury or loss. Compensation that may be available for injury victims include:
Lost wages

Diminished earning ability

Medical bills, including expected future bills

Pain, suffering, and diminished quality of life
Compensation that is available in a wrongful death lawsuit after the loss of a loved one varies greatly from state to state.
---

Rollover Accidents Frequently Asked Questions
I was the Driver in a Single-Vehicle Rollover Accident. Can I Still Recover Compensation for my Injuries?
In many cases, yes. Rollover crashes are often caused by vehicle defects, roadway defects, negligence on the part of another driver who was not in the crash or even a combination thereof. In most states, you can recover compensation for your injuries even if you were partly to blame for your accident.
Depending on the cause of your rollover, one or more of the following may be held liable for your injuries:
Vehicle or parts manufacturer or seller
Rental company
Repair shop
Government entity responsible for design, construction and/or maintenance of defective roadway
Negligent driver who caused your accident without being directly involved in the crash
What Caused My Rollover Accident?
Rollover accidents can have a wide variety of causes and are often single-vehicle crashes. The majority involve a combination of a tripping event combined with a high center of gravity. Tripping events can be caused by:
Soft shoulder
Deep pothole
Bump in the road
Object in the road
Hitting a curb
Tire failure
There can be many contributing factors such as:
Defective design makes a vehicle more prone to rollover
Tripping mechanisms are often roadway defects
Another driver can force you to swerve and hit a curb or roll simply due to swerving hard at normal driving speed
What Types of Injuries Occur in Rollover Accidents?
Rollover accidents are some of the most harmful accidents on the road. Injuries are typically severe, and often made worse by crashworthiness defects such as poor roof crush resistance. Ejection injuries, from full or partial ejection, are some of the worst and full ejection can lead to being struck by another vehicle. Injuries in rollover accidents can include:
Asphyxiation
Amputation
Back injury
Neck injury
Broken bones and fractures
Internal injuries
Paralysis
Death
What Types of Vehicle Defects Cause Rollover Accidents and Injuries?
Vehicle defects can lead to rollover and, in cases where the rollover had another cause, crashworthiness defects can make injuries worse. Defects that can lead to rollover include:
Defective design, including high center of gravity and narrow wheel base
Faulty tires
Defective brake system
Defective steering
Faulty electronic stability control (ESC)
Crashworthiness defects that can cause injuries to be worse in a rollover include:
Poor roof crush resistance
Poor side impact resistance
Defective seat belts
Faulty air bags
Defective door latch
Fuel system defects leading to fuel-fed fire
To talk to a local rollover accident attorney, please contact AccidentAttorney.org today.