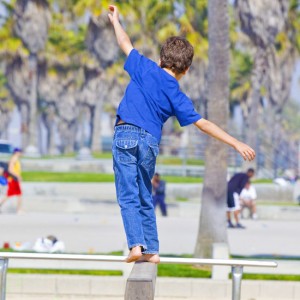 Playgrounds are part of childhood fun, and they are a great way to get you kid off the couch in a day and age when most children do not get enough physical activity. However, they can be riddled with hazards. Over 200,000 kids are treated in emergency rooms each year for playground injuries. You can help protect your child from preventable playground injuries by following these safety tips.
Adult supervision is essential. Never leave your child unattended on a playground.
Fall surfacing should be made from cushioning materials such as wood chips, mulch, sand, pea gravel, poured in place rubber, rubber mats, or rubber tiles; concrete, asphalt, grass, blacktop, packed dirt, and rocks are unacceptable materials.
Check for broke glass and other hazards, especially those which can be hidden in loose materials like sand and pea gravel.
Make sure your child wears closed-toe shoes, even if you have checked for these hazards.
Only allow your child to play on age-appropriate equipment.
Look for broken, worn, or damage equipment.
Check for protrusions (such as S-hooks and bolts), sharp points or edges, and missing guards.
Makes sure that the equipment is anchored properly.
If the equipment includes items made from wood, check for splinters and jagged or weak areas.
Check the swing sets, making sure the seats are not cracked, the chains are intact, and all S-hooks are squeezed closed.
Feel the slides, swing set seats, and any metal equipment to ensure that it is not too hot.
Check for standing water and ice.
Remove strangulation hazards from your child, such as hoodies, drawstrings, necklaces, scarves, and helmets.
Look for openings in the equipment that could allow your child's head to get stuck. Openings should be less than 3.5" or more than 9".
Never allow your child to wear a bicycle helmet on the playground.