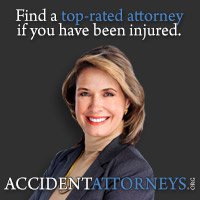 Many brain injury are caused by the negligence or misconduct of others. When your brain injury has been caused by someone else, you may be able to file a brain injury lawsuit to get compensation. Here are some of the more common causes of brain injuries that are associated with negligence.
Falls
Falls are one of the leading causes of brain injuries in the US. They can be caused by negligence in construction site accidents, when, for example, scaffolding is not properly set up or safeguards are not properly employed.
Falls cause 61% of brain injuries in people over 65, and are commonly the result of nursing home negligence, such as the lack of proper assistance for residents or the failure to install appropriate handholds and rails.
Motor Vehicle Accidents
Motor vehicle accidents are the second leading cause of brain injuries in the US. Motorcycle accidents have a very high rate of brain injury, especially among riders that do not wear a helmet. Car accidents also commonly result in brain injury, especially rollover accidents.
The negligence of another driver is the most common cause that gives rise to car accident brain injury lawsuits. However, defective vehicle lawsuits may also result when a car has an elevated risk for causing an accident or fails to protect passengers against brain injury.
Struck by/Against
This cause of brain injury is common in workplaces and reflects a diverse number of circumstances. People may be struck by raised moving items, such as a pallet on a forklift or items on a raised conveyor. They may also be struck by objects dropped from above or by flying debris.
Failure to use proper safety equipment or follow safety procedures can lead to negligence claims in this type of injury.
Assault
Personal injury claims can result from a deliberate act as well as negligent actions. Assault is the fourth leading cause of brain injury in the US. It primarily affects teens and adult males.
A brain injury that results from assault can lead to a lawsuit, which is in addition to criminal charges that may be brought.
Anoxic Brain Injury
Anoxic brain injury occurs when the brain is deprived of oxygen. It may result due to a partial drowning in a swimming pool or after a boating accident. It may also result from medical situations, such as an anesthesia error or improper handling of a difficult birth, leading to birth injury.
Consulting an Attorney Can Help
If you are unsure whether your brain injury was the result of negligence or may be the basis for a brain injury lawsuit, you should talk to an attorney. In general, the consultation will be free, and you will have the benefit of an expert opinion to help you make decisions about your course of actions.
Determining the causes of brain injuries is difficult and assessing your legal rights is even harder. Please search for an experienced brain injury lawyer in our directory.