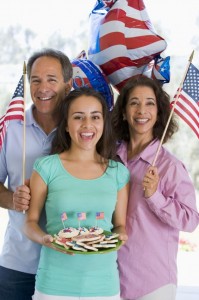 When you think of the Fourth of July, the first thing that comes to mind is fireworks. Fireworks accidents can turn a celebration into a disaster in an instant. According to the Consumer Product Safety Commission (CSPS) about 200 people go to the emergency room with fireworks injuries every day during the month surrounding the 4th of July.
If you are planning to enjoy fireworks at home this summer, do it safely. Start by downloading the AccidentAttorneys.org Fireworks Safety Checklist.
Remember, alcohol and fireworks don't mix. Designate a sober adult to be in charge of handling and setting off your fireworks. Read the directions and learn to light your fireworks safely. And, always buy them from a reliable source. In 2012 all six deaths caused by fireworks involved illegal and homemade devices, according to the CSPC.
Before kicking off your Independence Day festivities, please download our Fireworks Safety Checklist and read it over. Encourage your friends and family to use fireworks safely, too. It could save a life or a home.