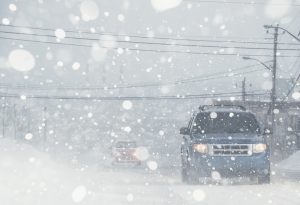 We find ourselves in the middle of winter in America, and it's a great time to brush up on winter driving safety tips. According to the National Highway Traffic Safety Administration, 17 percent of all motor vehicle accidents occur in winter conditions.
Depending on where you live, you may deal with snow and ice (or, maybe you're lucky enough to deal with abundant sunshine year-round!). For those of you who live in the wintry areas of the country, please consider these tips to prevent motor vehicle accidents and keep everyone as safe as possible:
Reduce your speed when it's snowing, and when roads are snowpacked and icy. A slower speed will increase your following distance, which gives you more time to react and come to a stop. It will take longer to stop on snowy, icy or wet roads, so the cushion of time is always a good idea.
Start and stop gradually. Cramming on the accelerator or brake pedal on icy, snowpacked roads tends to lead to skidding and loss of control. Apply pressure gradually and slowly.
Accelerate up hills correctly. Snowy hills can be a scary sight to see as a motorist! Accelerating aggressively while you are already on the slope will likely make your wheels spin. Try to pick up momentum and inertia when approaching the hill, which will help carry you up the incline.
Prepare ahead of winter weather with vehicle maintenance. A well-running vehicle is never a bad thing, especially in winter weather. Make sure your car is up-to-date on recommended maintenance.
Allow yourself extra time. Snowy weather snarls commutes. It's a really good idea to build extra time into your commute so you can drive patiently and smartly.
These are a few precautions. There are many more. You can see them at AAA's website. Please stay safe out there this winter.
If you are injured in an accident caused by someone else's carelessness or negligence, then an attorney can fight for compensation on your behalf. To find an experienced accident attorney in your area, please search our directory.