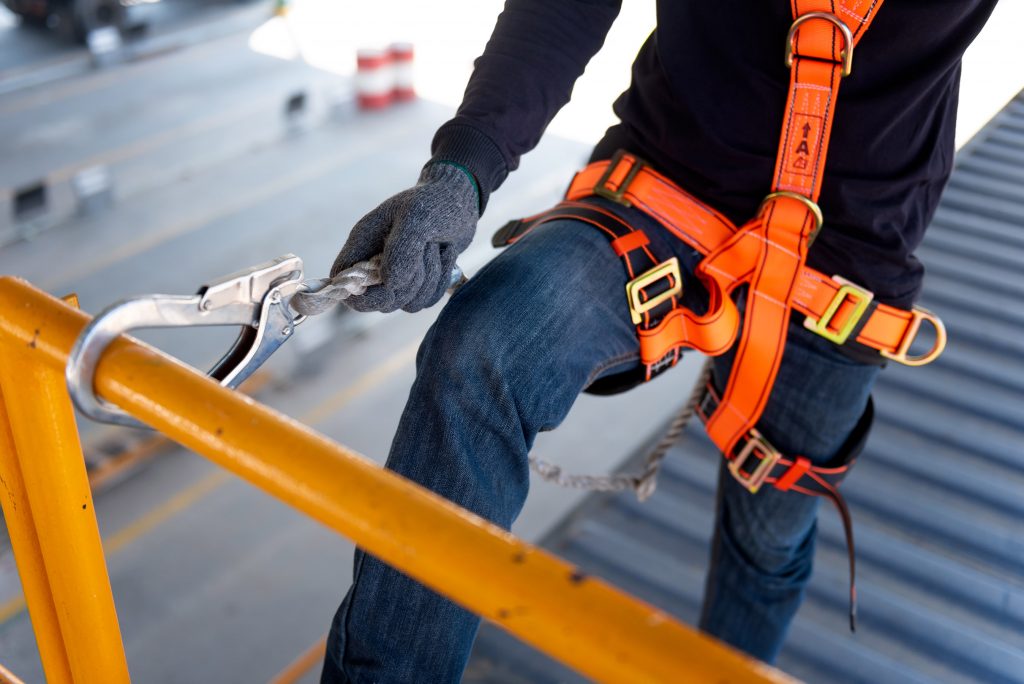 The purpose of the Occupational Safety and Health Administration (OSHA) is to create and enforce laws to protect the safety of employees while on the job. If you're a construction worker, for example, you're surrounded by dangerous equipment and high risk situations on a daily basis. OSHA has a set of requirements that your employer is legally bound to follow to prevent accidents while you and your colleagues perform the requirements of your job.
According to OSHA's website, there are approximately 252,000 construction sites with nearly 6.5 million employees on any given day in the United States, and construction is just one of the many industries that OSHA oversees. In early 2019, OSHA issued a list of the top ten workplace violations for which construction companies were cited in 2018:
Fall protection

Hazard communication

Scaffolding

Respiratory protection

Lockouts

Ladders

Powered industrial trucks

Fall protection (lack of training requirements)

Machine guarding

Eye and face protection
The most common workplace injuries, according to OSHA, are as follows:
Heat burns

Puncture wounds

Concussions

Lacerations

Fractures

Contusions

Sprains, strains, and tears of ligaments, muscles, and joints
Employer Requirements
Employers are legally required to take certain steps to ensure a safe working environment for all of their employees; OSHA's requirements for employers include:
Training workers about hazards on the job

Providing safety training in a language workers can understand

Keeping accurate records of injuries

Paying for and providing sufficient protective equipment

 Notify OSHA within eight hours if an employee is killed on the job
Employee Rights
OSHA not only requires employers to comply with certain laws, but also provides workers with certain rights including:
The right to a safe workplace

The right to file a confidential complaint with OSHA 

The right to participate in any OSHA inspection resulting from a complaint and to speak privately with inspector
If you suspect your employer has violated OSHA's standards, you may file a complaint with OSHA; the agency will then conduct an inspection of your workplace. While some employees may find this daunting out of fear of retaliation, it must be done to ensure your safety and the safety of those with whom you work. It is illegal for an employer to retaliate against someone who files an OSHA complaint. If you are retaliated against or fired as a result of filing an OSHA complaint, be sure to document everything and contact an attorney who handles whistleblower cases/workplace discrimination right away.
Workers' Compensation vs. Personal Injury
Construction workers and others who work in dangerous jobs are always given instructions for what to do when accidents occur at work. The first step is to get medical help for the victim and report the accident to a supervisor immediately. 
Workers' Compensation paperwork will have to be filed right away; time is of the essence in these cases. Waiting just one day can mean the difference between getting compensated for your medical expenses and being denied. Every employer must carry Workers' Compensation insurance, but just because you have filed a claim does not mean you'll be reimbursed for all of the expenses related to your injury. When workplace injuries occur, a lengthy and complex process begins, and the assistance of a Workers' Compensation lawyer is almost always necessary.
Workers' Compensation only provides for lost wages, medical bills, and other expenses related to your treatment. Workers' Comp doesn't allow you to be compensated for pain and suffering, even in cases that the employer was clearly and grossly negligent. However, if a third party caused your injury, you may be able to file a personal injury claim against that responsible party. For instance, if a piece of heavy machinery malfunctioned and caused you to lose a limb, you may be able to file a claim against the machine manufacturer or the rental company that provided the equipment. In workplace injury cases, a personal injury claim allows you to seek additional compensation, including pain and suffering. 
Workplace injuries are often catastrophic, meaning the negative impact of the injury will last a lifetime and will prevent the injured worker from enjoying the life he or once had. If you've suffered a workplace injury, please contact a personal injury attorney in your area today to schedule a free consultation. The sooner you get legal help, the better your chances are for receiving the compensation you need and deserve following an on-the-job injury.