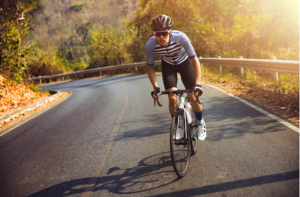 Did you know the month of May is National Bike Month in America? It's an important time to talk about the benefits and joys of riding bikes – whether for exercise, commuting, or simply for fun. There's no doubt that bicycling is a wonderful activity for people of all ages.
It's also important to discuss the various risks and hazards of bicycling while sharing the road with motor vehicles. Some parts of the country have more dedicated bike lanes than other places. But no matter where you live, if you are a bicyclist you should take these safety tips into consideration:
Always wear a helmet, whether it's a law in your state or not. If you crash, a helmet will protect your head and your brain.
Wear brightly colored clothing. Being seen by motorists and pedestrians is an important safety measure. You may also want to consider reflective strips for your clothing or the bicycle itself.
Don't bike distracted. Don't wear headphones, talk on the phone, or text while you are riding your bike. Although it's easy to get relaxed and forget yourself, biking requires attention just like driving.
Don't bike intoxicated. According to the National Highway Traffic Safety Administration, 1 in 4 fatal bicyclist accidents in 2019 involved a bicyclist who had been drinking.
Of course, many of us who bike are also motorists. Motorists too must do their part to prevent bicycle vs. car accidents:
Bicyclists may be traveling at high rates of speed. Be careful when making judgements about turning in front of them. Don't underestimate the speed and distance.
Don't drive distracted. Texting, using a phone, and other forms of inattentiveness can be the difference between seeing and not seeing a bicyclist.
Always be alert for the presence of bicyclists on the road. Sometimes a big part of preventing collisions is simply knowing that other cars, pedestrians, and bicycles may be around you and sharing the road with you.
Yield the right of way to bicyclists when appropriate. They have the same rights to the road as motorists.
Don't crowd a bicyclist as you pass them. Just as you would for another motorist, you should pass only when it's safe to do so.
If you have been involved in an accident caused by someone else, an experienced attorney can help you decide what to do next, which may include pursuing compensation with an injury claim. Please use our directory to search for an experienced attorney in your area.