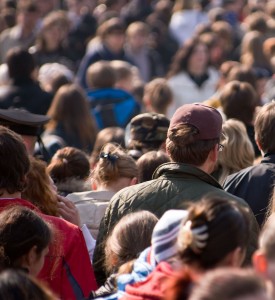 Large crowds, by nature, can suddenly turn dangerous. Accidents can easily occur, groups can get separated, and crowds can become violent when they get wrapped up in the excitement of the event. There is always the risk of fire, building collapse, and sadly, intentional criminal and terrorist attacks. It's enough to make you want to stay home, but avoiding large crowds can mean missing out on some of life's most memorable and enjoyable events. By memorizing some important safety tips before you go, you can minimize your chance of getting hurt in a crowded event.
Choose a Meeting Spot
Pick a spot where you and your friends and family who attend the event together will meet if you get separated. It is best to choose two places, one inside the event and one outside in case you have to evacuate the event or somehow get stuck outside and can't get back in. Do not assume that you will be able to communicate by cellphone. Phones can get lost or broken, the battery may run down, or you may lose signal.
Identify the Exits
Identify all of the possible exits. Be sure to find the exits that are closest to where you will be and exist that are not main exits, because the main exits are more likely to be blocked by crowds rushing to get out in an emergency. Also look for potential ways out that are not official exits, such as windows, in case you cannot get to an exit.
Be Aware
Pay attention to the people around you. Be on the lookout for odd or agitated behavior. If someone's behavior makes you uncomfortable get away from them. If you notice abandoned items, such as bags, backpacks, or packages, report them to security. Do not touch these items.