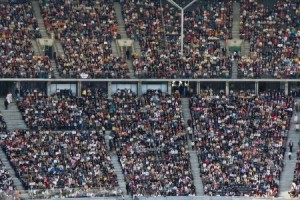 2013 has seen several stadium accidents and violent attacks; some were fatal. The majority of stadium accidents are falls, and they often injure the fall victim as well as people below. In December, four people were stabbed, three of them hospitalized, after a Broncos game. While not game-related, a deadly construction accident at a Brazil stadium has raised concerns that the country may not be ready in time to host the 2014 World Cup. Whether you are planning to attend the NFL playoffs, Super Bowl, Olympics, World Cup, or turn out to support your local college or high school team, you can take steps to avoid accidents and injuries.
Charge Your Cell Phone in Advance
Your cell phone may be a life saver if there is a problem. It allows you to communicate with your family and the group with which you are attending the event. Make sure it is fully charged before you leave your house or your hotel.
Know the Stadium Rules in Advance
If you haven't attended a game recently, you may be shocked at what you can no longer bring with you. Each stadium has their own rules, and you can often find them online. The NFL has its own rules for the bag you can bring, and they are very limited. In fact, you are discouraged from bringing any at all.
Only bring necessary items. Glass bottles, alcohol, and outside food and beverages are prohibited at most stadiums. Some stadiums allow you to bring in water and non-alcoholic beverages, but many do not. Go prepared to purchase anything you might need to eat and drink, including water. There are even limits of the size of camera you may bring into the stadium.
Familiarize Yourself with the Stadium
Locate the exits and any first aid stations. Find out where to go if you have an emergency, and how to find a security guard if you need one. While you're at it, locate the restrooms and make sure you know the route back to your seat if you have to get up and go during the game.
Avoiding Assaults
Stay with your group; don't go wandering around alone. Walk in well-lit areas. When it's time to go to your vehicle, have your keys out and ready so you are not vulnerable to attack when getting into your car. Once in your car, lock your doors.