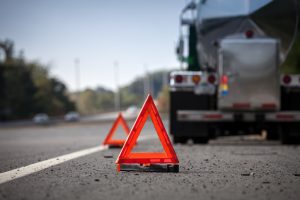 Most motor vehicle accidents are caused by human error. Distraction, intoxication, recklessness – these are all instances of human error that cause crashes every day in America. But sometimes, it is the roadway itself or an obstacle on the roadway that contributes to the accident. That is one of the many reasons it is so important to never drive distracted: you never know when a hazard will appear on the roadway requiring your full attention and swift reaction.
Examples of roadway hazards that could cause loss of vehicle control or cause a collision include:
Uneven or buckled asphalt

Soft or eroded shoulders

Uneven lanes

Faded road markings

Potholes

Unsafe or poorly signed construction zones

Road surface that doesn't drain water properly

Landscaping or other obstacles that block the motorist's view

Dangerous slopes or dips

Lack of warning signs for dangerous curves

Storm debris or debris that has fallen from a vehicle
These issues are not always someone's fault. But if you suspect the crash that injured you was caused by the negligence of the agency responsible for the road design and maintenance, or by a road construction company or another driver, then you need an experienced attorney on your side. Your attorney will put all of their resources to work in investigating your claim.
You may want to look for an attorney who has experience with accidents that can be traced back to the negligence of the city, county, or other government agency responsible for the road. These cases can become complex and involve powerful entities. You need an equally powerful and knowledgeable team on your side.
If you or a loved one has been injured in a motor vehicle accident caused by someone else, please search our directory for an experienced attorney in your area. It's important to contact an attorney as soon as possible after the crash, for the best chance at building a strategic case for injury compensation. You may be entitled to maximum compensation for medical bills, lost wages, and for pain and suffering. Each state has slightly different laws regarding injury compensation and car accident cases, and an experienced lawyer in your area can provide you with helpful answers.