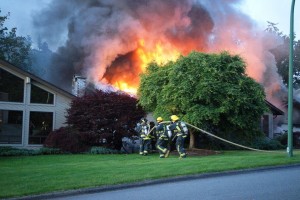 The number of large wildfires and the amount of acreage burned in the Western U.S., is increasing each year and the problem is only expected to get worse in years to come. Increasing temperatures and ongoing drought conditions are behind the increase. Wildfire season is getting longer, and a 2006 study found that the average fire season in the West was 78 days longer than in the early 1970's. For California, fire "season" has become a year-round event. To protect your home and family, we encourage you to participate in one of the upcoming wildfire preparedness events.
FEMA – America's PrepareAthon!
The Federal Emergency Management Agency (FEMA) has launched America's PrepareAthon! The first official national day of action is April 30, 2014, focusing on floods, tornadoes, hurricanes, and wildfires. The campaign also features a notional day of action for fall focusing on earthquakes, hazardous materials, pandemic flu, and severe winter weather.
Anyone can participate and the website provides resources including participation guides for individuals and families, K-12 schools, institutions of higher education, workplaces, houses of worship, and community-based organizations. Those who participate can download a certificate of participation and can be listed as participants on the website.
NFPA – National Wildfire Community Preparedness Day
The National Fire Protection Association (NFPA) is holding its first National Wildfire Community Preparedness Day on May 3, 2014. NFPA is encouraging individuals and organizations to participate by committing to projects which can take as little as an hour to a whole weekend, and provides a list of project ideas and promotional resources. You can even put your event on their map.
Community Events and Resources
Many local governments, home owners' associations, and other groups and organizations are holding events and offering resources and support for those who want to learn more about what they can do to protect themselves and prepare their homes, families, and workplaces for the upcoming fire season. Please, do not wait until it is too late to find out what you can do to prepare.