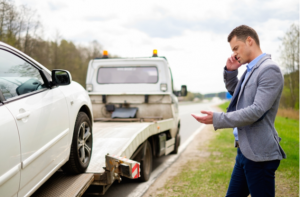 Motor vehicle accidents kill tens of thousands of people in America every year, and they send millions more people to the emergency room with severe injuries. Even though serious car accidents are extremely common, you never really expect to find yourself involved in one until it happens. Maybe you've been involved in minor fender-benders before and now find yourself with a life-altering injury after a catastrophic accident. What do you do next? You may want to consider contacting an experienced car accident lawyer. Here are some of the signs that it's time to do so:
Your injuries are severe. Serious physical injuries usually mean you're looking at very expensive medical care. You may be looking at a very long recovery period, and you may even be facing permanent partial or total disability.
You are losing income from being unable to work. A severe injury usually puts someone out of work either temporarily or for the long term. While you may have some benefits to help close the gap and replace some of your lost wages, the compensation you'll need based on your diminished earning capacity could be much greater than these benefits provide.
Initial insurance company offers seem too low and unfair. As someone who's never been involved in a severe accident before, you may have no idea whether the insurance settlement offer is fair. An attorney knows how to negotiate with insurance companies to pursue maximum compensation for their clients.
The accident and the injuries have turned your life upside down. Medical bills, diminished earning capacity, altered quality of life, pain and suffering, and anguish are all signs of a very serious accident. An experienced attorney can demonstrate just how severely your life has been impacted and will fight for justice on your behalf.
The fact is, there may not be blatant signs that it's time to call an accident attorney. Instead, you should contact an attorney if you have any reason to believe that their services may benefit your situation. There's typically no obligation or risk involved in consulting an attorney to learn more about your options.
If you or a loved one has been seriously injured in a motor vehicle accident anywhere in the United States, please search our directory for an experienced attorney in your area.