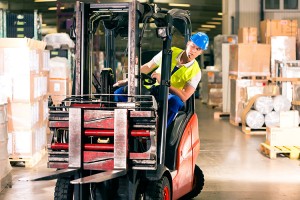 Forklift accidents can cause severe and fatal injuries. The majority of these accidents are preventable when operators are properly trained and everyone involved, including bystanders, follows proper safety protocols. According to Occupational Health and Safety Magazine, the Occupational Safety and Health Administration (OSHA) estimates that 85 people are killed in forklift accidents each year, and nearly 35,000 are seriously injured. More than 40% of forklift fatalities involve forklift tip overs.
Common Forklift Accidents
Common types of forklift accidents include:
Tip over
Load falling from forklift
Falls from forks when forklifts are used to elevate people
Pedestrian struck by forklift
Accidents in areas that are not designed to accommodate forklift operation
Collisions with other equipment
Contact with power lines
Forklift malfunction
Causes of Forklift Accidents
Common causes of forklift accidents include:
Failure to follow safety procedures by anyone near the forklift, not just the operator
Inadequate training
Overloading
Improperly stacked load
Using forklift to elevate people
Other inappropriate uses of forklifts
Driving forklift with load elevated
Poor communication
Excessive speed
Missing safety equipment
Poorly designed work area
Poor lighting
Inadequate forklift maintenance
Defective forklift
Safety Tips
You can help prevent a forklift accident by following these forklift safety tips:
Do not operate a forklift unless you have been properly trained.
Look for hazards before you get in the forklift. Examples include blind corners, low structures, dangers floors, power lines, areas where pedestrians may be present.
Make sure your load is stable.
Inspect your pallets to make sure they are in good condition.
Do not use forklift blades to elevate people.
Inspect your forklift daily.