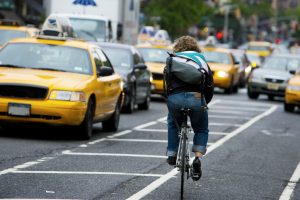 In Florida, it seems like we have everything: beaches, ocean, sunshine, nightlife, art, family and friends. Unfortunately, we also have high rates of bicyclist fatalities. In fact, in 2019, Florida tied with Delaware and New York City as having the highest percentage of crash deaths involving bicyclists (at 5 percent of all crash deaths). That year, 160 cyclists were killed in collisions involving motor vehicles.
Florida is and always has been a great place to travel by bike. Our bicyclists enjoy all styles of biking. With road bikes, cruisers, mountain bikes, city bikes, and commuter bikes, we travel the state's many roads, paths, and multi-use trails. You yourself may be both a cyclist and a motorist. So what can you do to contribute to reducing bicyclist accident fatalities? Here are a few ways you can get started today:
3 feet of clearance when passing: it's the law. If you are passing or driving alongside a bicyclist, you must by law provide 3 feet of space between your vehicle and their bike.

If you are making a right turn and a bicyclist is in the bike lane behind you, wait for them to safely pass before making the turn. Don't turn in front of them.

If you are making a left turn in front of an oncoming bicyclist, only turn when it is safe to do so. Wait for them to clear the intersection first if you have any doubts. Bicycles may be traveling at a faster speed than you realize.

When leaving your parallel parked vehicle, check your mirrors carefully before swinging the door open. Cyclists are sometimes hit with a door as the motorist exits, which can lead to very serious injuries or may cause the bicyclist to swerve into the path of cars in the roadway.
These are just a few of the ways you can share the road with bicyclists more safely. We encourage you to read further at authoritative websites like the Florida Department of Highway Safety and Motor Vehicles. There are many ways to be a safer motorist in the Sunshine State.
If you or a loved one has been injured in a bicycle accident caused by someone else's negligence, anywhere in the country, you may be able to pursue compensation and justice for your injuries. Please search our directory for an experienced bicycle accident attorney in your area.