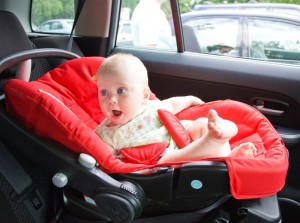 You may remember the Graco car seat recall issued in February, in which the company recalled front-facing seats, but refused to recall rear-facing car seats with the same defect. Well, Evenflo has issued a similar recall, for the same buckle defect, and has also rejected the National Highway Traffic Safety Administration's (NHTSA) request to recall rear-facing seats which contain the same defective buckle.
The Recall
Evenflo is recalling over 1.3 million car seats manufactured between 2011 and 2014. Seats affected by the recall are as follows:
Secure Kid LX, Secure Kid DLX, Secure Kid 100, Secure Kid 300, Secure Kid 400 and Snugli Booster, with model number prefix 308, manufactured December 13, 2011 through March 3, 2013
Titan 65 and SureRide DLX, model number prefix 371, manufactured June 20, 2012 through October 17, 2013
Symphony 65, Symphony 65 E3, Symphony LX, Symphony DLX and Snugli All-in-One, model number prefix 345 or 346, manufactured October 2, 2012 through August 26, 2013
Maestro and Maestro Performance, model number prefix 310, manufactured August 22, 2011 through October 17, 2013
Chase LX and Chase DLX, model number prefix 329, manufactured August 23, 2011 through March 3, 2014
Chase, Chase LX and Chase Select, model number prefix 306, manufactured June 12, 2012 through October 3, 2013
Momentum 65, Momentum 65 LX and Momentum 65 DLX, model number prefix 385, manufactured March 4, 2014 through August 26, 2013
The Defect
The problem with the recalled convertible car seats and booster seats is that the harness crotch buckle can get stuck in the latched position, making it impossible to remove your child from the car seat quickly in an emergency. According to the company, the buckles only get stuck if they are exposed to contaminants such as food and drinks, which occurs in normal use of the seats.
Parents have had to cut their children out of the seats, because the harness could not be unbuckled, and the defect can be fatal if there is a fire or another life-threatening emergency.
Rear-Facing Seats
Although rear-facing seats are also affected by the defect, and the NHTSA has requested that they also be recalled, they are not included in the recall. Evenflo, like Graco, says that there is no need to recall the defective rear-facing seats because if the buckle gets stuck, parents can detach the seat from its base to get the child out of the car quickly.
The company does not explain how to get the child out of the detached seat. If you need to get your infant out of the seat quickly to perform CPR or other emergency medical treatment, removing the seat is of no use.