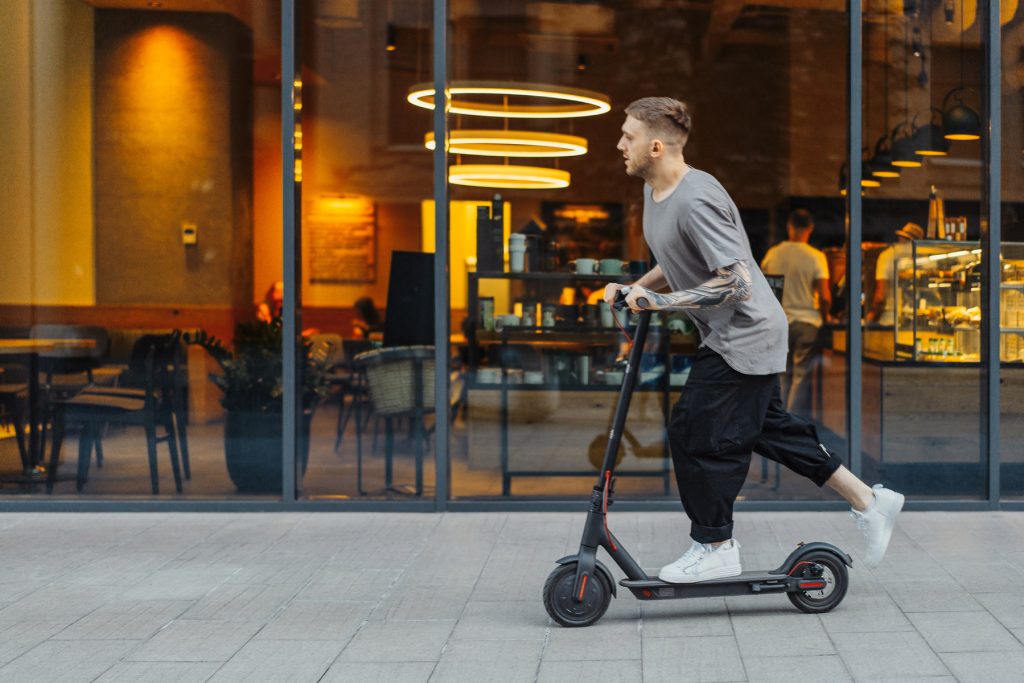 As the popularity of E-scooters continues to rise, so does the number of serious injuries reported amongst those who ride the latest mode of transportation that's all the rage among city travelers. Lime and Bird, two of the biggest e-scooter companies, have consistently claimed that safety is their main priority when designing and building electronic scooters, and they say their apps and labels on the scooters contain basic safety information and training instructions, but helmets are nowhere to be found, and that's a problem according to the Centers for Disease Control and Prevention (CDC).
Known as "dockless electric scooters," these inexpensive, fun modes of transportation are seen in hundreds of cities across the country, and they're a great way to maneuver around city traffic when used properly and safely. However, too many people have been injured, and the CDC is warning riders to wear a helmet each and every time they get on a scooter. The popularity of e-scooters has even prompted Uber and Lyft to offset their contribution to rising traffic congestion by replacing short car rides with bike and scooter trips. In 2018, a staggering "38.5 million trips were taken on shared scooters across dozens of US cities in 2018," according to the National Association of City Transportation Officials.
Alarming TBI Statistics Among E-Scooter Riders
Lime, Bird, and Skip (the top three manufacturers of e-scooters) have programs that provide helmets to riders who request them, and Lime claims riders must go through a tutorial on helmet safety on the app to unlock an e-scooter for the first time. But on any given day, you will rarely see an e-scooter rider wearing a helmet. A recent study by the Public Health and Transportation departments in Austin, Texas, in association with the CDC, identified a total of 271 people with potential scooter-related injuries from September 5 through November 30, 2018.
During that same period of time, there were a total of 182,333 hours of e-scooter use, 891,121 miles ridden on e-scooters, and 936,110 e-scooter trips. The team doing the study estimated that there were 20 riders injured per 100,000 e-scooter trips taken during that three-month period from September to November. Of those injured riders, almost half sustained head injuries, and 15% experienced traumatic brain injuries (TBI) that could have been prevented by wearing a helmet. The study showed that only one out of 190 injured riders was wearing a helmet at the time of the injury.
The study found that while TBI was a common scooter-related injury, it certainly was not the only injury cited by riders. Almost half of the injured riders reported sustaining a "severe injury," and for this study, "severe injury" was defined as the following:
Bone fractures (84% of respondents)

Nerve, tendon, and ligament injuries (45%)

Severe bleeding (5%)

Organ damage (1%)
The study also noted where e-scooter riders were hurt and found the following:
Over half were injured in the street

A third (33% to be exact) were hurt on the sidewalk

Cars or other motorized vehicles factored into 16% of injuries

10% of riders collided with a car

10% of injured riders hit a curb

7% of riders struck an inanimate object
Not surprising was the fact that a third of the people involved in the CDC study reported their injury on their very first e-scooter ride. If you've ever ridden one, you know that the first trip can be a little challenging as it does take some time to get used to the handling, speed, and braking of the scooter. Regardless of your skill level on an e-scooter, the CDC is encouraging everyone planning to ride one to please grab a helmet first.