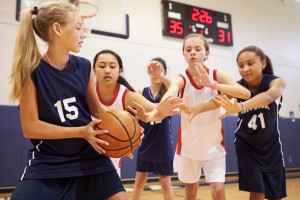 January is National Winter Sports Traumatic Brain Injury Awareness month. The risk of brain injury in youth sports and the long term harm of concussion and repetitive subconcussive injury has gained awareness and more schools and parents are taking steps to protect kids from the dangers. But, when we think about concussions in sports, we typically think of sports like football, hockey and skiing. Many parents do not realize how easy and common it is for kids to suffer concussions in basketball. In fact, a study by the National Academy of Sciences (NAS) found that basketball is the sport with the second-highest concussion rate for girls.
Concussions in Basketball
Brain injuries in basketball are most often the result of a player hitting their head on the very hard floor, but can also be caused by body blows as they are in rougher sports like football and hockey.
Although concussion awareness is on the rise, and schools are taking concussion in sports like football much more seriously, we just don't think of basketball as a sport that is high-risk for head injuries and concussions. As a result, coaches and parents aren't as likely to be on the lookout for symptoms of concussion in kids who have not lost consciousness, and that leads to injured athletes staying in play or returning to play too soon.
Symptoms to Watch For
Young athletes may not tell coaches and parents that they are hurt. Of course most want to stay in the game, but in the heat of the moment they are often unaware of their injuries. Signs that your child may have suffered a concussion include:
Headache
Disorientation
Slower thinking
Memory problems or amnesia
Vomiting
Change in consciousness
Difficulty waking up
Brain injury can continue to progress over a 72 hour period after the event, even if there was no initial loss of consciousness, and they can become fatal. Do not hesitate to seek emergency medical care for your child if you suspect a concussion and symptoms are getting worse.