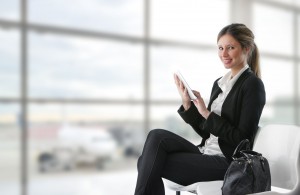 Business travel doesn't have to be boring, but you should never let your guard down. Travel safety basics still apply. Stay alert and aware of your surroundings, don't wear expensive looking jewelry or watches, and be cautious when socializing with the locals. By following these tips, you can have a safe and comfortable business trip.
Flying
Keep all of your necessities in your carry-on luggage, not baggage you will check. This includes your passport, money, credit cards, traveler's checks, and medications.
Never leave your bags unattended at the airport.
Keep the majority of your cash in a money pouch under your clothes, but keep some spending money in a front pocket, so you don't have to get it out of the pouch and draw attention to it.
Be careful when using Wi-Fi. Learn how to tell the difference between official Wi-Fi connections and bogus connections set up to steal your data.
Don't let anyone handle or watch your bags for you.
On the Road
When renting a car, familiarize yourself with the vehicle, and make sure everything works, before leaving the parking lot. Test out the headlights, windshield wipers, windows, locks, turn signals, and other equipment.
Before heading out for your destination, know your route. Actually look it up on a map. GPS is not always accurate and can steer you into a dangerous situation.
Do not advertise the fact that you are from out of town. Keep maps, car rental agreements, and luggage out of sight.
Keep your doors locked while driving.
Beware of carjackers faking a minor accident or posing as law enforcement. If you are bumped, or if an unmarked car tries to pull you over in a deserted area, turn on your hazard lights and continue driving steadily to a well-lit place where there are other people, or a police station. If you can do it safely, call 911 and let them know what is going on in case it is a legitimate traffic stop or accident.
Always have your keys out and ready when going to your car so you're not fumbling for them and making yourself a target. Before getting in your car, check the backseat.
Hotel Safety
Choose a hotel with interior room doors, not doors that open onto the parking lot
Ask for a room with a peephole, and check to make sure it is working and installed properly when you get to your room.
Do not allow the front desk clerk to announce your room number out loud. If they do, ask for a different room.
When riding in an elevator, try to be the last one to push the button for your floor.
Do not leave valuables in your hotel room. Use the hotel safe.
Keep the "Do not disturb" sign on your door when you are gone so it looks like your room is occupied. You can let housekeeping know what you are doing and arrange for them to clean your room anyway.
Never answer your door for someone you are not expecting. That includes room service, if you have not ordered anything, housekeeping, and other people claiming to be hotel staff. Call the front desk to make sure it is really a hotel employee.
Only use the hotel gym or pool if it is attended.
Bars and Restaurants
Keep your alcohol intake to a minimum, even when socializing for business purposes.
Keep an eye on your drink at all times, especially if you are sitting at a bar, even if it is not an alcoholic beverage. If you leave it unattended when you go to the restroom, set it aside and order a new one when you get back. Ask for a new glass; do not allow the server to simply refill your existing drink.