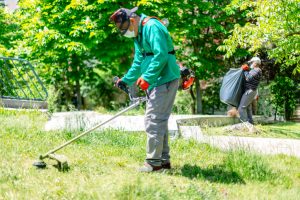 We're all trying to stay safe by staying at home. It's leading some to find creative ways to fill the time, and many to catch up on projects, cleaning and home maintenance. If you are one of the many who normally hires someone to mow your lawn but have decided to go DIY for the first time in a long time, you may need to brush up on your lawn mower safety. Lawn mower accidents can be fatal and are a common cause of amputation. If you have been injured in a lawn mower accident and believe it was due to a lawn mower defect, talk to an experienced accident attorney right away.
Preparing to Mow
Here are a few things you need to do before you get started:
Read your instruction manual.
Inspect your mower. Make sure everything is in good condition and that your safety devices are in place and working properly.
Walk the yard and do a visual inspection looking for items that can become projectiles if hit with the mower. This includes small rocks, nails, toys, twigs, bottles and cans.
Make sure all children and pets are secured indoors or well away from the mowing area.
Dress properly. Clothing should be close-fitting so that it can't get caught in the mower. Wear sturdy, closed-to shoes, not flip-flops or sandals. Don't forget protective eyewear and hearing protection.
Make sure your grass isn't wet.
Mowing Safely
Do not start the mower in a garage or outbuilding. Start it outside.
If you are using a push mower, make sure the automatic shut-off is working. It should turn off when you let go of the handle.
Use extra caution on slopes. If on a riding mower, only go up and down, not across the slope.
When using a push mower, do not pull it backwards unless you absolutely must.
Do not carry passengers on riding lawnmowers.
Do not allow children under 12 years old to operate a push mower.
Do not walk away from a running lawn mower.
When clearing debris from the blades, turn off the mower and wait for the blades to stop moving completely. Use a broom handle or stick, not your hands or feet.
Before refueling, turn off the engine and let it cool completely. Refuel outdoors.
If you or someone you love has been injured in a lawn mower accident due to a defect or someone else's negligence, talk to an experienced accident attorney in your state today.