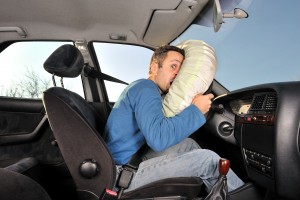 Airbags save thousands of lives each year, but they can also cause very serious injuries. Although it rarely happens, airbags have killed children and adults. Older airbags were more dangerous, but even today's improved airbags can cause very serious injuries. If you have suffered airbag injuries, it can make your auto accident claim more complicated. Depending on the circumstances of your accident, it may be appropriate to seek compensation from the auto or airbag maker, or other parties along the supply chain, under product liability.
Injuries Caused by Airbags
Examples of injuries caused by airbags include:
Eye injuries
Burns, typically to the face, arms, and chest
Respiratory injury from gases leaked from the airbag
Serious injuries to the heart which may go undetected
Facial injuries, including fractures
Fractured wrists and hands
Throat injury
Asthma attack
Internal injuries and bleeding
Hearing damage from the loud explosion in deployment
Minimizing Your Risk
There are some things you can do to minimize your risk of being injured by airbags.
Wear your seatbelt. Airbags are designed to be used in conjunction with seat belts and the seat belt helps to protect you from the airbag.
Sit at least 10 inches back from the steering wheel or dash.
Never place a rear-facing car seat in front of an airbag.
Do not lean or rest against the car door. It puts you too close to side air bags if they deploy.
Airbag injuries can be severe and life-altering. You may be entitled to significant compensation. An experienced car accident attorney can determine who can be held responsible for your injuries so that you can pursue every avenue of compensation. AccidentAttorneys.org can connect you with a highly credentialed accident attorney in your area, today.